Egg Replacer
Our mixes will not work with starch based egg replacers such as Orgran or Ener-G. Because of this we have developed our own egg replacer based on nutritious, gluten-free oats. You can, of course, use eggs with our mixes if not dealing with health issues which restrict their use.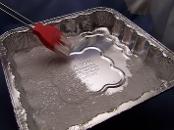 Pan Prep
500 ml (2 cups) (384 g) shortening
500 ml (2 cups) (334 g) white rice flour
125 ml (1/2 cup) vegetable oil
This is an easy method to use, instead of having to get out the grease and flour to prepare your baking pans, every time you want to bake a cake. This recipe may be doubled or halved depending on your needs. Place all ingredients in bowl of mixer and mix until well blended, about 5 minutes on medium. Scrape bowl & beater once during mixing. Store in a sealed container in your cupboard. I apply thickly with a silicone pastry brush, making sure that no shininess is showing though, and have never had a cake stick. If baking brownies or chocolate cake I also sift some cocoa over the pan prep, after it has been applied. Wheat flour can be used instead of white rice flour if not baking for someone with wheat/gluten issues.
Cutting Cinnamon Rolls
When cutting cinnamon roll dough I find it useful to dip or rinse knife in hot water and wipe with a paper towel after each cut. Also, cutting the log of dough in half and then continuing to cut each piece in half until you have eight pieces will give you more uniform pieces. After I place the cut pieces in the pan, I pat down the top of the dough to even everything out.