Egg Replacer/Substitute
Our mixes will not work with starch based egg replacers such as Orgran or Ener-G. Because of this we have developed our own egg replacer based on nutritious, gluten-free oats. Although nothing can exactly replicate eggs in baking, the alternatives below will allow you to partake in gluten free baked goods. You can do an online search for "egg substitutes for gluten free baking" for additional tips.
Options to Replace Eggs in Baking

1) This is a recipe for egg replacer, which we formulated to work with our mixes, but are no longer producing. Missing from the recipe is emulsifier and flavor, which you would not have access to, as you are not a food processor. Although not tested, recipe should still perform without those ingredients.
Ingredient Grams
White Rice Flour 165
Baking Powder 8
Xanthan Gum 11
Oat Flour 126
Blend the above ingredients thoroughly then use as directed below
Cakes & brownies (the following replaces both eggs): 45 ml (3 tbsp) very firmly packed (30 g) egg replacer mixed with 125 ml (1/2 cup) water and 5 ml (1 tsp) vegetable oil. Allow to sit for 4 minutes then mix again.
Cookies: 30 ml (2 tbsp) very firmly packed (20 g) egg replacer mixed with 45 ml (3 tbsp) water and 5 ml (1 tsp) vegetable oil. Allow to sit for 4 minutes then mix again
Pie crust: 30 ml (2 tbsp) very firmly packed (20 g) egg replacer mixed with 30 ml (2 tbsp) water & 5 ml (1 tsp) vegetable oil. Allow to sit for 4 minutes then mix again.
Tea biscuit, Waffle, Pancake & Cinnamon Roll: We have not had the time to determine if the egg replacer will work with these mixes or how much to use. If you have success in this area we would appreciate you letting us know so we can share with others.
2) Because quail eggs contain a different protein than chicken eggs, those with chicken egg allergies can often use quail eggs as a replacement. Although allergy is rare, always introduce new foods gradually to ascertain if an allergy to quail eggs exists. Check Kijiji , your local health food store or farmers market for quail eggs.

3) A generous customer dealing with egg allergy shared this with us. They have successfully used these options with our mixes.
Here are the specific sour cream instructions for those without dairy restrictions.
1. In spice breads or cinnamon breads: replace each egg with 1 tbsp applesauce and 3 tbsp of sour cream*
2. In cakes and in banana bread: replace each egg with 1/4 cup of sour cream and a small pinch of baking soda**
3. In all items: if sour cream not available, then replace each egg with 1/4 cup of canned (evaporated) milk*** and 1 tsp vinegar mixed together and allowed to sit for a few minutes
Notes:
* This works best with half-fat or full-fat sour cream. When fat-free sour cream is used, the texture of the baked goods is not ideal.
** This pinch of soda is in addition to whatever leavening is already in the recipe. And, this extra soda may be omitted, depending on texture preference.
*** Recipes can have a different texture if evaporated milk is used instead of sour cream, but otherwise, they are fine.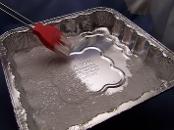 Pan Prep
500 ml (2 cups) (384 g) shortening
500 ml (2 cups) (334 g) white rice flour
125 ml (1/2 cup) vegetable oil
This is an easy method to use, instead of having to get out the grease and flour to prepare your baking pans, every time you want to bake a cake. This recipe may be doubled or halved depending on your needs. Place all ingredients in bowl of mixer and mix until well blended, about 5 minutes on medium. Scrape bowl & beater once during mixing. Store in a sealed container in your cupboard or fridge (bring to room temperature before using). I apply thickly with a silicone pastry brush, making sure that no shininess is showing though, and have never had a cake stick. If baking brownies or chocolate cake I also sift some cocoa over the pan prep, after it has been applied.
Cutting Cinnamon Rolls
To make the dough less sticky for cutting, after forming the log, sprinkle rice flour over, in front of and behind the log of dough then roll the log back and forth to put a coating of rice flour all over the log. Also, cutting the log of dough in half and then continuing to cut each piece in half until you have eight pieces will give you more uniform pieces. After you place the cut cinnamon rolls in the pan, pat down the top of the dough to make all rolls the same height.